From 19th July to 4th August 1996, Atlanta, the American capital of Georgia hosted the XXVI Summer Olympic Games. 10 318 athletes representing 197 nations took part in these Games. The official opening was proclaimed by the President of the United States, Bill Clinton, prior to the boxer Mohammed lighting up the giant cauldron.
Presentation of the Monegasque delegation to the press on 2nd July 1996: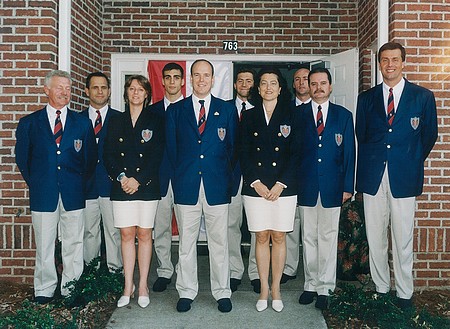 Pictured with H.S.H. Hereditary Prince Albert (from left to right)J.L. Lecharpentier (swimming coach), M. Pietri (judo coach), F. Pasetti, Th. Vatrican, Ch. Verdino, Ms Yvette Lambin, J.L. Guédé (physiotherapist.), C. Zabaldano and David Tomatis (head of mission).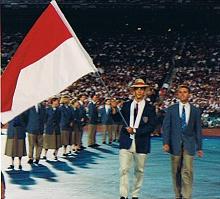 At the opening ceremony, the M.O.C. nominated Thierry Vatrican as the standard bearer
Three Monegasque athletes represented the Principality of Monaco at these Games :
Shooting: Fabienne Pasetti, who finished 39th out of 49 competitors in the women's 10m air rifle event,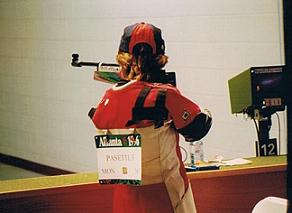 F.Pasetti at the Wolf Creek shooting complex
Judo: Thierry Vatrican, judoka kazakh winner of his first round contest (under 78 kg category), was eliminated by the Brazilian
Swimming: Christophe Verdino ranked 36th out of 45 in the 100m men's breaststroke, then 28th out of 36 in the 200m.
.