The 11th European Youth Olympic Summer Festival took place from 24th to 29th July in Trabazon, Turkey. The Opening Ceremony was held on 24th July at the Trabzon Hüseyin Avni Aker Stadium.
2 Monegasque athletes took part: Messrs Victor Langellotti (cycling) and Lucas Catarina (tennis) (flag bearer).
They were accompanied by their trainers, Messrs Roger Decaup (cycling) and Jacques Vincileoni (tennis).
Mr Sébastien Gattuso fulfilled the role of Head of Mission.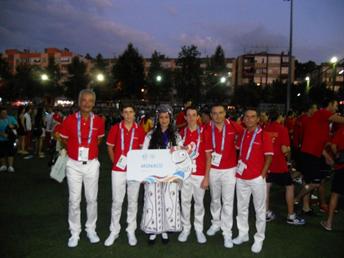 Sports results :
- Victor Langellotti:
Time trial: 51st /96
Critérium: Qualified for the B Final. He abandoned the race 3 km before the finish line.
Road race: 39th/ 96
- Lucas Catarina:
1st match: won against Aleksandre Bashi (GEO) 6/2 6/1
2nd match: lost against Maxime Janvier (FRA) 4/6 3/6
.