Article Index
Page 1 of 2
2010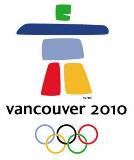 - The 21st Winter Olympic Games took place from 12th to 26th February 2010 in Vancouver (Canada). 3 Monegasque athletes, together with their chief of mission, Jacques Pastor, took part in the Games : Alexandra Coletti in alpine skiing, Patrice Servelle and Sebastien Gattuso in the bobsleigh.
- A meeting was held in Vaduz (Liechtenstein) from 30th to 1st April between the Technical Commission and Executive Committee of the Games of the Small States of Europe. Mr Jean-Pierre Schoebel (President of the Technical Commission) and Mr Raymond Gnutti (Chief of Mission) attended the meeting.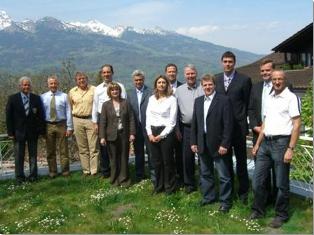 Approval of several amendments to the articles of the Games' Technical Regulations by the G.S.S.E. Executive Committee such as :
Number of medals awarded according to the number of contestants in an event.

The organising country to nominate four cyclists only for the ranking by team.

Nomination of all the members of the Technical Commission (by their National Olympic Committee).
On 7th May, a reception was held in the Louis II Stadium in Monaco as a prelude to the Youth Olympic Games "99 days to go", in the presence of H.S.H. the Sovereign Prince, H.S.H. Princess Stéphanie, Mr Paul Masseron (Minister for the Interior), the 4 athletes, their parents; coaches and Federation Presidents.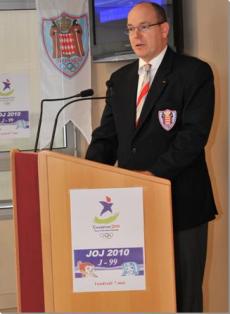 H.S.H. Prince Albert II during his address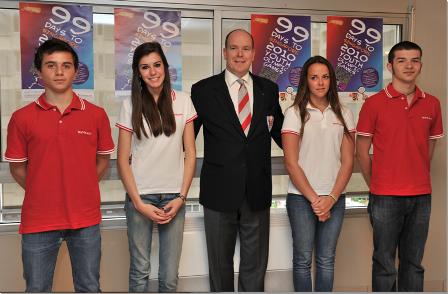 The young athletes
- On 27th and 29th May, the European Olympic Committees Seminar took place in Malta, in the presence of Mr Sébastien Gattuso, Chief of Mission for the YOG in Singapore. The working sessions not only concerned the YOG in Singapore, but other topics including :
The Olympic Games in London
The World Anti-Doping Agency
The Autonomy of the Olympic Movement
- From 16th to 30th June, the International Olympic Academy held, as it does every year, its 50th session from in Olympia. Mr Simone De Rosa (fencing) took part in the working sessions. Discussions were focused on the Olympics and the Olympic Movement as a platform for peace.
- Olympic Day was celebrated on 24th June.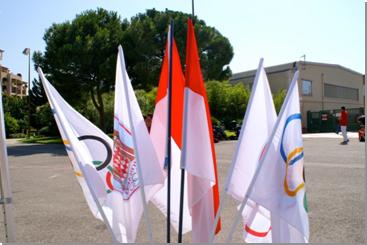 The 2nd FANB Monaco Challenge, which consists of an orienteering competition on sports and general knowledge subjects, took place in the FontvieilleGardens.
With the participation of 450 school children, the day – a symbol of the Olympic values and colours – met with great success. Following the events, each student was awarded a diploma by the International Olympic Committee.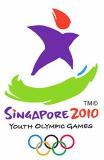 - From 14th to 26th August, the 1st Youth Olympic Games took place in Singapore. The event, created on the initiative of Count Jacques Rogge (President of the International Olympic Committee), groups together young athletes aged between 14 and 18 from 205 National Olympic Committees.
3,500 athletes competed in the sports events and also took part in the cultural and educational programme.
This was Mr Sébastien Gattuso's first experience as Chief of Mission. He discovered the administrative side of managing a delegation (logistics, transportation...).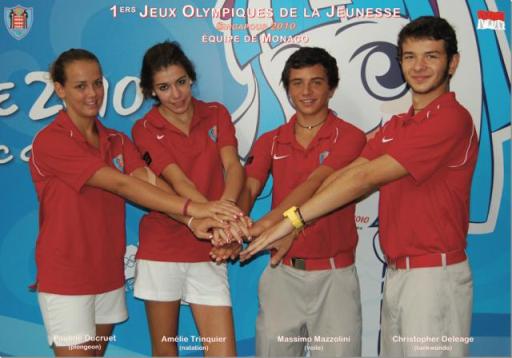 The results obtained by the Monegasque athletes:
Pauline Ducruet (diving – 3m) ranked 12th position
Amélie Trinquier (swimming – 100m freestyle) – 45th /54 with a time of 1.05.04
Christopher Deleage (taekwondo under 73 kg) was eliminated during the first round against Gulec (GER)
Massimo Mazzolini (sailing – Byte 2) finished 25th / 29