On 17th September 1988, Seoul, the capital of Korea, hosted the XXIV Olympic Games. 8 391 athletes representing 159 countries took part in the Games. Among all these athletes, 9 were to defend the colours of the Principality.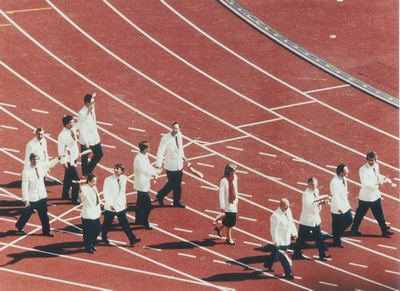 The Monegasque delegation enters the Olympic Stadium (from right to left) :
Armand Forcherio: Head of mission,
Gérard Battaglia: President of the Monegasque Sailing Federation,
Dr Louis Orecchia: Head of delegation,
Yves Fissore: President of the Shooting Federation,
The team : F. Pasetti, E. Bessi, Ph. Battaglia, D. Gamerdinger, G. Pagès, O. Martini, G. Cresto, G. Bessi, R. Prat.
The Monegasque athletes were to compete in the following events :
Air rifle:Fabienne Pasetti (1st Monegasque woman to take part in the Olympics), 43rd out of 45 competitors,
Archery: Gilles Cresto, 65th out of 84 archers,
Fencing: Olivier Martini, 35th out of 40,
Athletics: Gilbert Bessi, 80th out of 100 participants in the 100 m flat,
Individual cycling on road: Stéphane Operto, 106th out of 133 after a 200 km race,
Judo: Gilles Pagès, (in the under 60 kg) and Eric Bessi (under 86 kg)
Sailing: Philippe Battaglia (Finn) and Didier Gamerdinger (Board), took part in the Pusan regatta. With wind forces of 5 and 7 and 2 metre high waves, the Monegasque representatives managed to beat three yachting competitors and thirteen windsurfers.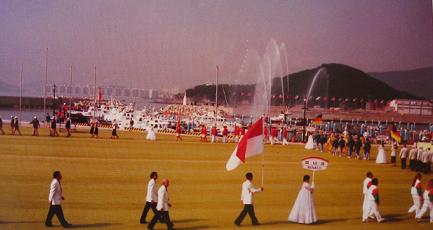 Monaco's sailing team on parade.
.