The beginning of 1955 was marked by a key phase in the history of Olympism. At the instigation of H.S.H. Prince Pierre of Monaco, the M.O.C. set up a competition to create a new version of the Olympic anthem.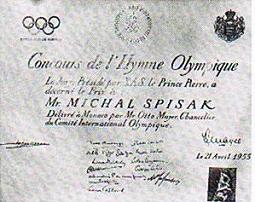 Diploma awarded to Michal Spisak on 21st April 1955
An initial panel of judges, made up of Nadia Bolanger, Malipiero and Necil Kâzim Akses, met on 27th February at the I.O.C. Chancellery in Lausanne, to look over and grade 390 compositions by composers from about forty countries.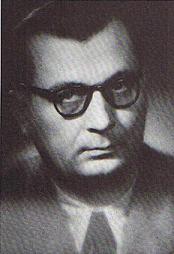 This same panel of judges then met in Monte Carlo on 18th April, along with thirteen other key figures held in high regard in the musical world.This panel of judges then worked for two days, under the chairmanship of H.S.H. Prince Pierre of Monaco and the management of Nadia Boulanger.Four compositions were selected for the final vote and the Polish composer, Michal Spisak's work won the one thousand dollar prize provided by H.S.H. Prince Pierre of Monaco.
Michal Spisak
H.S.H. Prince Pierre to be adapted to Spisak's score, while four ballet companies interpreted the harmony of the Olympic movements on stage.
In June 1955, the 51st session of the I.O.C. took place in Paris.The formal sitting opened at the Sorbonne and was attended by the French President, René Coty, members of the I.O.C., delegates from the International Federations and International Olympic Committees.The new Olympic Anthem was then performed for them by the Republican Guard's Band and the Paris Opera Chorus in the presence of its author, Michal Spisak.
The anthem was officially recognised by the I.O.C. members during the session, thus allowing it to be performed at the opening ceremony of the II Mediterranean Games in Barcelona.
.