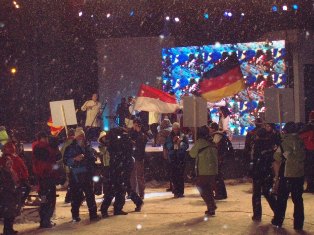 The delegations on parade
The 9th edition of the European Youth Olympic Festival took place in Śląsk-Beskidy (Poland) from 15th to 20th February 2009. A young Monegasque from the Monegasque Skiing Federation, Arnaud Alessandria, took part in the Festival.
Arnaud took part in the Alpine skiing slalom and giant slalom events, the first event having been cancelled due to bad weather conditions.
On 17th February, he finished 27th in the slalom out of 120 competitors and achieved the 8th fastest time in his category.

 

 

 

 

The Slalom Start
On 20th February in the giant slalom on extremely hard snow, Arnaud achieved a very good first run, leaving in 53rd position he finished 27th, which resulted in his starting in 4th position for the second run (only the first 30 can take part in the 2nd run). In the second run, his binding came loose in a hole and he had to stop.
.