Article Index
Page 1 of 3
1937 : THE WORLD UNIVERSITY GAMES
On 23rd April 1939, the sports ground in Fontvieille officially became the first Louis II Stadium.Thus the Principality was equipped with the modern infrastructure necessary to host major sports events.
 

 

In August of the same year, international tension reached its peak.

Nazi Germany which had been allied for three months with Italy, signed the German-Soviet Pact.

Despite this critical situation, the Principality of Monaco managed to organise the World University Games, from 20th until 27th August.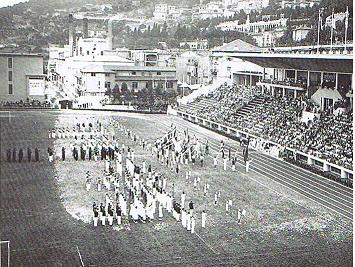 Opening ceremony of the 8th World university Games
Numerous sports featured in the programme: football, volleyball, basketball, boxing, shooting, fencing, swimming, water polo, and, finally, a tennis tournament which took place at the Condamine Tennis Club
Aleco Noghès and Ramon Badia giving the Olympic salute during the Monegasque delegation's procession

 
The programme was disrupted by political events, however, which resulted in the Polish delegation leaving the Principality before the end of the Games.Five days later, Hitler invaded Poland, and England and France were compelled to declare war against Germany on the 3rd September.