For the second time since 1932, Los Angeles prepared to organise the XXIII Summer Olympic Games, from 28th July to 12th August 1984. Over seven thousand athletes representing one hundred and forty nations took part in 121 events.
The Monegasque delegation, led by Dr Louis Orecchia, included :
- Two representatives of the M.O.C. (Yvette Lambin and Francis Boisson),
- Eight athletes :
Fencing: Olivier Martini, 2nd round of the sabre tournament,
Archery: Gilles Cresto, 39th out of 62 participants,
Free pistol: Jean-Pierre Gasparotti and Joël Nigioni, respectively 48th and 50th out of 56 shooters.
Rifle prone: Pierre Boisson, 69th out of 71 shooters,
Trap: Jean-Marie Repaire, 62nd out of 71 shooters,
Judo: Eric Bessi, 1st round of the judo event, under 86 kg category.
Swimming: Jean-Luc Adorno, 56th out of 68 participants in the 100 m freestyle.
- Four trainers : Gérard Boyer (fencing), Rodolphe Aragno (archery), Thérésius Imbert (judo) and Lucien Piarson (swimming).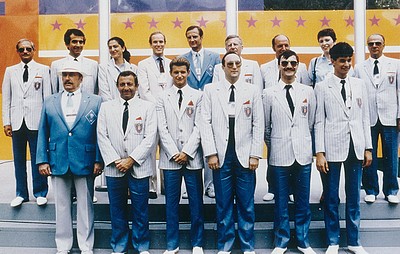 (In the 2nd row from left to right):
R. Aragno, A. Forcherio, Y. Lambin, H.S.H. Hereditary Prince Albert, J. Eaton (Mayor of the Californian University of Los Angeles), Dr. L. Orecchia, G. Boyer, J. D'Errico (Olympic attaché), T. Imbert.
(In the 1st row from left to right):
H.Morrow (Olympic organising committee), L. Pierson, J.L. Adorno, E. Bessi, G. Cresto and O. Martini.
Los Angeles 1984
H.S.H. Hereditary Prince Albert, who attended the Games in Los Angeles from the opening ceremony, gave the Monegasque athletes great encouragement.
.