From 8th to 24th February 2002, the Rice-Eccles Stadium welcomed two thousand three hundred and ninety nine athletes carrying seventy-seven banners. The XIX Olympic Winter Games were marked by an increase in the number of events featured on the Olympic programme (78) with the return of the skeleton and the introduction of the women's bobsleigh.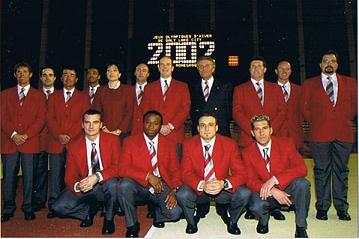 Presentation of the Monegasque delegation for the Salt Lake City Olympic Games.
After an official address by President George Bush, the Monegasque delegation marched past 55 000 spectators including Ms Yvette Lambin-Berti and Mr Robert Colle (President of the Monegasque Ski Federation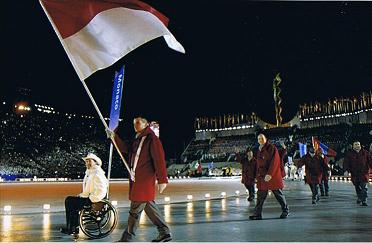 H.S.H. Hereditary Prince Albert, taking part for the 5th time in the Games, leads the Monegasque delegation in the company of Jean-François Calmes (standard bearer), Patrice Servelle, Sébastien Gattuso and Charles Oula
After the appearance of the Olympic flag with its five coloured interlaced rings on a white background, carried by a representative of the 5 continents, the Olympic Torch arrived (after travelling 21 500 km and with 11 500 relay runners) in the joint hands of two gold medallists in figure skating, Peggy Fleming (Grenoble 1968) and Scott Hamilton (Sarajevo 1984) who passed it over for the final blaze to the American hockey team, authors of "miracle on ice" (referring to their victory over the invincible Russians!) and gold medallists in Lake Placid in 1980.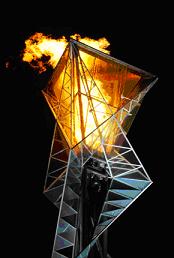 The Olympic flame burns in the cauldron of the Rice-Eccles Stadium.
Events in which the Monegasque athletes took part :
In the Monegasque 4-man bobsleigh event, driven by Prince Albert with Patrice Servelle, Sébastien Gattuso and Charles Oula aboard, the crew had a great fright in the third heat. A highly skilled athlete, Prince Albert II did not lose heart and returned to the race in the 4th heat when Jean-François Calmes, the substitute, stepped in and finished in 28th position out of 33 competitors.
In the 2-man bobsleigh event, the Monegasque pilot Patrice Servelle and Sébastien Gattuso achieved a good result finishing 22nd out of 39 competitors.
.