PESCARA, JUNE - JULY 2009
From 26th June to 5th July, the 16th Mediterranean Games took place in Pescara (Italy)
Mr Raymond Gnutti was appointed Chef de Mission.
14 Monegasque athletes took part in the following events: athletics, rowing, boules, fencing, golf, judo and sailing.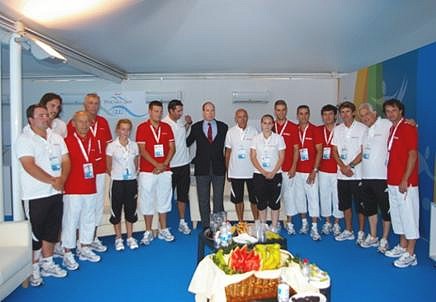 Despite the earthquake that struck the Aquila region three months previously, the Organising Committee and volunteers made every effort to welcome the delegations in the best conditions possible.
H.S.H. the Sovereign Prince, accompanied by H.E. Mr Philippe Blanchi, Monaco's Ambassador to Italy, visited the Mediterranean village and took part in the opening ceremony.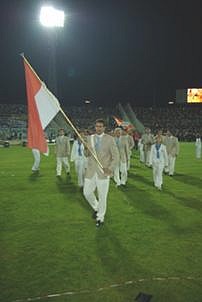 The delegation, with their standard bearer, Mr Damien Despart-Lerale (sailing), followed by the two women representatives, Ms Marine Prat (sailing) and Ms Aurélie Boisson (fencing) with the Chef de Mission, marched past in perfect order.
The delegation also included:
Anthony Desevelinges and Florent Battistel (athletics),
Mathias Raymond (Rowing),
Claude and Guillaume Campillo (Boules),
Roland Mouflard (fencing),
Yann Siccardi and Cédric Bessi (judo),
Charles-Henri Rey, Damien Flachaire, Emmanuel Zampori (golf).
The results were outstanding.
Since the 1963 Games in Naples, the Committee had never received any medals at this important event.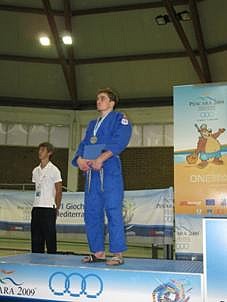 Mr Yann Siccardi, in the judo event, brought Monaco back to the ranks of excellence by achieving 2nd place on the podium and the silver medal for the under 60 kg category.
—
The athletes taking part in the sailing event also did particularly well, leading the race during the first 3 days of the regatta and mention should also be given to the very honourable 4th position in the petanque doubles.
.