The Principality of Liechtenstein was the 8th and last nation having the honour, according to the rule of alternation, of organising the Games of the Small States of Europe.
The events took place in 4 venues: Vaduz, the capital for swimming, squash and tennis; Triesen for judo; Balzers for shooting and Schaan for athletics and volley ball.
Led by Ms Yvette Lambin Berti and Mr Denis Ravera, the Monegasque team and its 60 or so members were welcomed to the stadium by T.S.H. Sovereign Prince Hans-Adam II of Liechtenstein and his sister, Princess Nora (Member of the I.O.C.), who were accompanied by H.S.H. Hereditary Prince Albert, H.R.H. Hereditary Grand Duke Henri of Luxembourg and H.E. Mr Samaranch.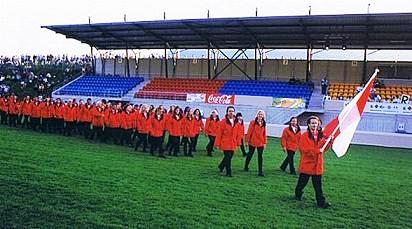 The Monegasque delegation enter the stadium
25 members stepped onto the podium to receive :
5 gold medals: 2 in athletics including
| | |
| --- | --- |
| - 1 to Hafida Gadi for the 5 000m ; | |
- 1 in judo, 1 in swimming and 1 in tennis,
9 silver medals: 3 in athletics, including 2 for Jean-Marc Léandro; 3 in judo; 2 for the swimmer Eric Rottinger; 1 in tennis,

6 bronze medals: 3 in swimming; 1 in athletics, judo and for the squash team, who were taking part in the games for the first time.
.