Continuing its action with determination, the M.O.C. sent a delegation to the XI Mediterranean Games, which were to be held in Athens from 28th June 1991.
Official Poster
Among the 3 600 athletes representing 18 nations, 8 Monegasques accompanied by Ms Yvette Lambin, head of delegation, Dr Louis Orecchia and Christian Berti, head of mission, took part in 5 disciplines :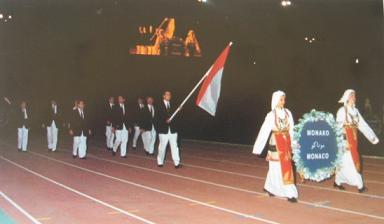 The Monegasque delegation on parade in the Olympic Stadium in Athens
Athletics : Marie-Cécile Rivetta, who achieved the 7th fastest time in the 1500 metres,
Fencing: the sabreur Olivier Martini, accompanied by his fencing instructor, Robert Prat,
Judo: Gilles Pagès (7th in the final of the under 60 kg), Thierry Degiovanni (under 71 kg category) and Eric Bessi (under 86 kg category), assisted by Jean-Claude Torterolo,
Swimming: Christophe Verdino (6th in the 100m breaststroke series and finishing 7th in the 200m breaststroke finals),
Air rifle (10m): Fabienne Pasetti and Jean-Marc Rué (both 7th in their respective final).
.