The IX Mediterranean Games of Casablanca were held from 3rd to 17th September 1983. Sixteen nations march past in the Mohamed V Stadium in front of King Hassan II of Morocco and eighty thousand spectators.
Official poster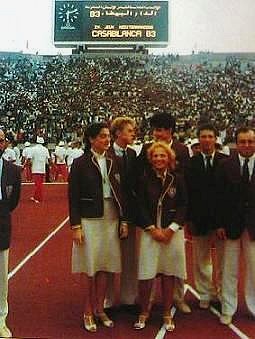 The Monegasque delegation, led by Yvette Lambin, assisted by Denis Ravera and Daniel Réalini, was composed of six young athletes, some entering the Olympic disciplines, others in a demonstration sport.
Jean-Luc Adonto beat his own record in the 100 metres freestyle swimming,
Eric Bessi ranked 4th in the final judo phase,
Olivier Martini, 7th in the sabre tournament organised in El Jadida,
Albert Viviani, 1st round in the Men's singles at the tennis tournament organised in Rabat.
In demonstration sport :
Laurent Nouvion, 16th out of 25 participants in the golf event organised at the Royal Golf Club in Dar Es Salem,
Isabelle Pissarello, 11th out of 13 participants in the Women's golf event.
At the end of the Games, the M.OC. in association with the A.I.C.V.S.(International Association for Sport without Violence), hosted a reception at the El Mansour Hotel in Casablanca.During the reception, H.S.H. Prince Rainier III presented a Gold Medal to the I.O.C. President as well as to the President of the Moroccan Olympic Committee.
.