| | | |
| --- | --- | --- |
| | | From 28th May to 2nd June 2001, the 9th Games of the Small States of Europe took place in San Marino. The country had held the very first edition in 1985. |
The Principality of Monaco was represented by 65 Monegasque athletes, with Raymond Gnutti as the head of mission, assisted by Solange Ragazzoni.
The Monegasque delegation drew particular attention to itself at the opening ceremony with all the participants wearing the traditional costume with panache.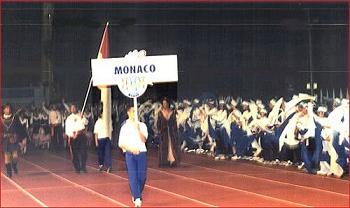 The Monegasque delegation during the opening ceremony
The athletes took part in the following events :
and for the first time the synchronised swimming and boules events.
For their first participation, the four Monegasque Pétanque and boule Lyonnaise players won 4 medals, including 1 in gold and 2 in silver.
Following the competition, the Principality of Monaco, despite its 27 medals (5 gold, 8 silver and 14 bronze) finished in sixth place. However, in the general country ranking, which takes into account all participations since 1985, Monaco remained in 4th place after Iceland, Cyprus and Luxembourg.
.