| | |
| --- | --- |
| In 1921, the Women's Olympics were organised from 25th to 30th March by the International Sporting Club, and presided over by Camille Blanc. They took place on the lawn in front of the Pigeon Shooting Range below the Monte Carlo Casino. | On the lawn in front of the "Pigeon Shooting Range", Jeanne Ronsay's ballet company |
This "Olympic" week brought together representatives from five nations (England, France, Italy, Norway and Switzerland) for the first time. Several hundred sportswomen competed in events including running, jumping and shot-putting. There were also rhythmic dance exhibitions with the dancers dressed in floating tunics "arms and legs bare", which were performed in front of sizeable crowds.
These genuine "Women's Olympiads" took place again in 1922 and brought together sportswomen from England, Denmark, France, Holland, Italy, Sweden and Switzerland. There were athletics events (60m, 65m hurdles, 250m, 800m, 4 x 175m relays, high jump, long jump, shot-put, javelin and pentathlon) and swimming.
| | |
| --- | --- |
| | 1922 Women's Olympics: Swimming Events in Port Hercule's docks |
In 1923, the third edition of the Women's Olympics was organised. This time competitors from England, Denmark, Belgium, France, Italy, Monaco, Switzerland and Czechoslovakia competed for gold in front of Prince Louis II, Hereditary Princess Charlotte and Prince Pierre.
1923 Women's Olympics: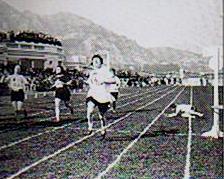 Athletics events on the lawn in front of the "Pigeon Shooting Range"
.