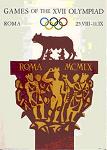 The Games of the XVII Olympiad were organised in Rome from 25th August to 11th September 1960. Of the 5 400 athletes from 84 countries, fourteen Monegasques formed the largest delegation ever presented by the Principality at the Olympic Games. They took part in three sports events: fencing, shooting and sailing.
The first events began for the Monegasques on 29th August with the fencers Henri Bini and Gilbert Orengo, who took part in the first épée round at the convention centre.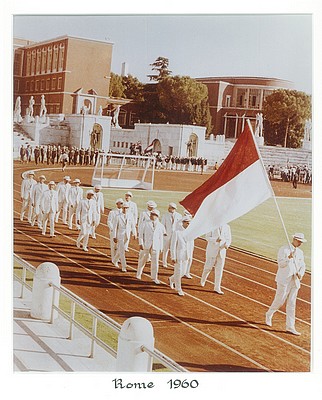 The Monegasque delegation on parade
On 5th September, the shooting event took place. Eighty-five competitors from 45 nations confronted each other in the 50 metre rifle event (prone position).
1st group: Pierre Marsan achieved the 25th score and beat France's second representative by five places
2nd group: Michel Ravarino, with the 37th score, did not qualify for the finals.
Gilbert Scorsoglio and Francis Boisson took part in the three-position rifle event, Francis Bonafède and Marcel Rué in the clay pigeon event. Pierre Boisson, Henri Bonafède and Alex Frolla were substitutes.
In the sailing event, Gérard Battaglia, Jean-Pierre Crovetto and Jules Soccal, aboard the "Demoiselle IV" finished in 23rd position, in the "Dragon" category beating the Philippines, Singapore, Indonesia and Spain.
.