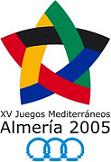 From 24th June to 3rd July 2005, the city of Almeria hosted the XV Mediterranean Games. 3 214 athletes representing 21 nations paraded before over 20 000 spectators in the Mediterranean Stadium.
Official Logo of the Games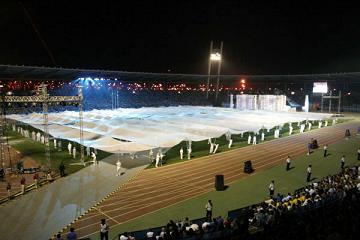 24th June 2005 – Opening Ceremony at the Mediterranean Stadium
Under the leadership of Ms Yvette Lambin-Berti and the head of mission, Jacques Pastor, 16 Monegasque athletes took part in these Games.
The Monegasque representatives achieved good results :
Athletics: Florent Battistel finished 7th in the 400m semi-finals and Anthony in the 110m hurdles,
Rowing: Mathias Raymond in the skiff event,
Boules: Antoine Paganelli, Claude Campillo and Jacques Léoni in Pétanque,
Fencing: Vincent Tonelli and Roland Mouflard in épée,
Golf: Charles-Henry Rey, Patrick Lecourt andt Jean-François Calmes,
Table tennis: Romain Loulergue and Mikael Battaglia,
Shooting: Fabienne Pasetti in the 10m air rifle event,
Sailing: Sébastien Peillon and Mathieu Mariani in the 470 series.
.