The XX Winter Olympics took place in Turin from 10th to 26th February 2006. 2 508 athletes representing 80 countries took part in the Games.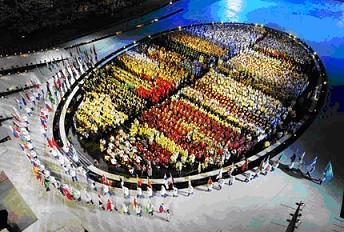 Opening Ceremony of the XX Winter Olympic Games Aerial view of the athletes in the Olympic Stadium
Since Sarajevo in 1984, the Principality has regularly taken part in the Olympic Winter Games, the 7th time running in Turin.Four athletes represented the Principality of Monaco. They were :
Alexandra Coletti, Alpine Skiing,
Patrice Servelle and Jérémy Bottin, Bobsleigh,
Olivier Jenot, Alpine Skiing.
This was the first time that a Monegasque woman athlete took part in the Winter Olympic Games.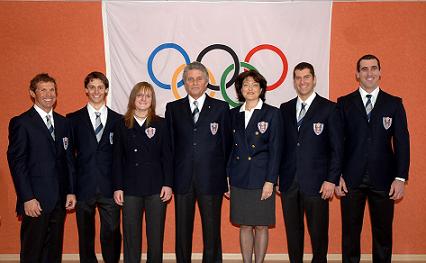 The Monegasque delegation was placed under the authority of Mr Henry Rey, Vice President and Ms Yvette Lambin-Berti, Secretary General.
The Monegasque Olympic Committee appointed Jacques Pastor as Head of Mission. The delegation's standard bearer at the Opening Ceremony was Patrice Servelle.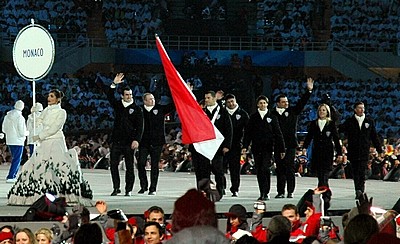 The Monegasque delegation during the opening ceremony
At the Alpine skiing events:
◊ After the disappointment of having failed in the Giant Slalom and the Combined, Alexandra Coletti gave a creditable performance in the three other events – the Women's Downhill, the Super G and the Women's Slalom :
- In the first event, she left from the top of Mount Fraiteve de San Sicario (2 538 m altitude) with bib number 35 and finished in 31st place (out of 45);
- Having passed the thirty-nine gates in the second event, after the two kilometre slope, she ranked 41st position (out of 56);
- Her perfect concentration in the third event enabled her to avoid the fifty-one gates on the Giovanni Agnelli slope in Sestriere, and to achieve the 33rd place beating 31 other competitors.
◊ Olivier Jenot, the youngest of all the athletes in competition, took part in three events :
- Eliminated from the Giant Slalom, he ranked 48th out of 63 competitors in the Super G and 34th out of 90 in the Men's Slalom.
2-man bobsleigh:
- The pilot, Patrice Servelle, and his "pusher-brakeman", Jérémy Bottin, launched themselves onto the icy track in Cesana Pariol for four heats in search of a feat. They found it after 1 435 metres and nineteen bends, ranking 12th out of the 29 crews. This was the best ranking Monaco had ever achieved at this level.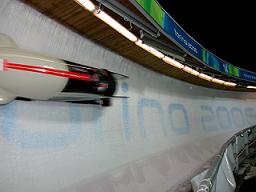 The Monegasque two-man bobsleigh team
.