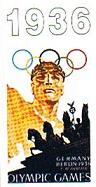 In the summer of 1936, from 1st to 16th August, Berlin held the eleventh major event for the best athletes in the world. Approximately four thousand athletes took part representing forty-nine nations.
But in Germany, the Nazi regime was at its peak. The Olympic Games gave them the opportunity to make propaganda about National Socialism. Although the Olympic charter was respected, the competitions were often surrounded by excessive pomp that the six representatives of the Principality witnessed while competing in the shooting events :
Roger Abel, Pierre Marsan and Michel Ravarino, in the 50 metre rifle event, Louis Briano, Victor Bonafède and Herman Schultz, in the 50 metre pistol event.

Monegasque Delegation
.