Article Index
1937 : THE WORLD UNIVERSITY GAMES
On 23rd April 1939, the sports ground in Fontvieille officially became the first Louis II Stadium.Thus the Principality was equipped with the modern infrastructure necessary to host major sports events.
 

 

In August of the same year, international tension reached its peak.

Nazi Germany which had been allied for three months with Italy, signed the German-Soviet Pact.

Despite this critical situation, the Principality of Monaco managed to organise the World University Games, from 20th until 27th August.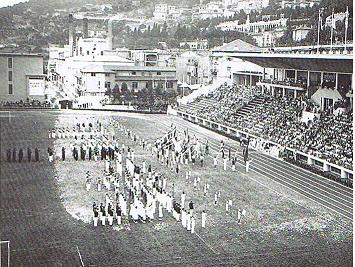 Opening ceremony of the 8th World university Games
Numerous sports featured in the programme: football, volleyball, basketball, boxing, shooting, fencing, swimming, water polo, and, finally, a tennis tournament which took place at the Condamine Tennis Club
Aleco Noghès and Ramon Badia giving the Olympic salute during the Monegasque delegation's procession

 
The programme was disrupted by political events, however, which resulted in the Polish delegation leaving the Principality before the end of the Games.Five days later, Hitler invaded Poland, and England and France were compelled to declare war against Germany on the 3rd September.
1947 : THE WORLD UNIVERSITY GAMES IN PARIS
| | |
| --- | --- |
| In 1947, the University Games took place in Paris.A Monegasque delegation, led by Jean-Louis Médecin, took part. | Paris 1947 - Jean Bouin Stadium |
It was made up of five sportsmen: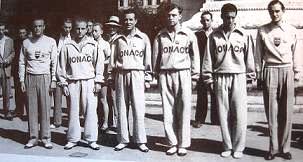 Georges Maurin and Georges Médecin, athletics ;

Jean-Louis Marsan and Aleco Noghès, tennis.
1987 : THE WORLD UNIVERSITY GAMES IN ZAGREB
In 1987, athletes from the Principality competed in different international sporting events.
From 5th until 19th July, Zagreb hosted the World University Games which were organised under the auspices of the World University Sports Federation (IUSF), with the support of the I.O.C.For the first time in their history, these "student Olympiads" which had been taking place regularly since 1953 under the name of Universiades, had an exceptional number of participants for the fourteenth edition of the modern version. Some seven thousand athletes, representing a hundred and twenty eight countries, responded to the Croatian invitation.Amongst them were the fencer, Olivier Martini and the tennis player, Albert Viviani who valiantly defended the Principality's colours.
The Monegasque delegation with representatives from Mongolia.

(from left to right

)

Patrick Laberche, O. Martini, A. Viviani, le Dr Louis Orecchia, Robert Prat.
.