During the presentation of the Monegasque athletes taking part in the 24th Winter Olympic Games in Beijing, which was held on Tuesday 19th January at the Monaco Yacht Club, the Monegasque Olympic Committee was eager to present a charitable cause it has been supporting. It was initiated by Pascal Camia. An Olympian and former member of the bobsleigh team, he is now a marathon runner. He completed the 6 World Marathon Majors and was awarded the Six Star Medal which he decided to give to H.S.H. Prince Albert II as a gift.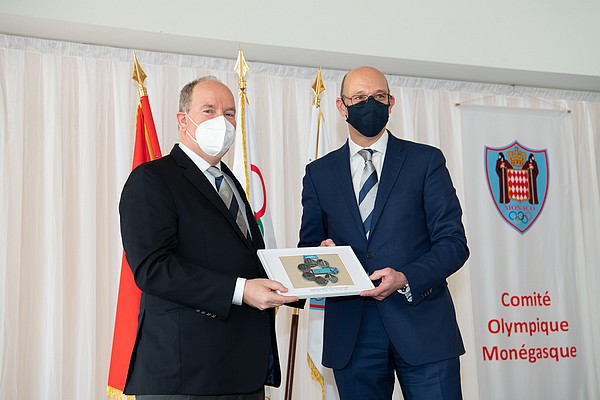 Pascal Camia was keen to offer H.S.H. Prince Albert II the Six Star Medal which he was awarded after completing the 6 World Marathon Majors (Photo Gatean Luci / Palais Princier)
This athletic performance was coupled with a worthy charitable initiative as Pascal Camia raised funds for the symbolic amount of 42,195 Euros, the same distance as the race.
The Monegasque Olympic Committee, drawing on its values of mutual aid and solidarity, joined in this project geared towards youth and inspiring hope, alongside CMB Monaco and Olivier Giroud, the international football player with a big heart.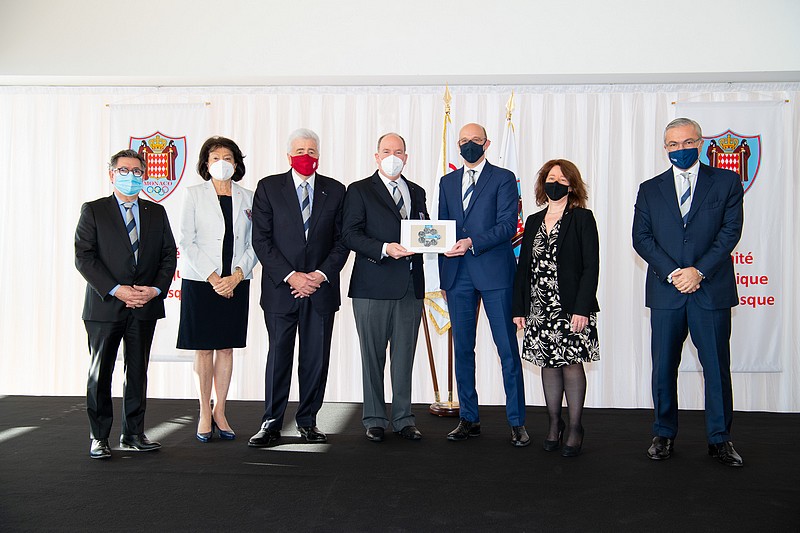 The Sovereign Prince alongside (from left to right) Guy Nervo, Deputy Chairman of the Cardio Thoracic Centre, H.E. Yvette Lambin-Berti, Secretary General of the Monegasque Olympic Committee, Etienne Franzi, President of CMB Monaco, Pascal Camia, Anne Poyard-Vatrican, Deputy Director of the International Cooperation, representing Olivier Giroud, Francesco Grosoli, CEO of CMB Monaco. (Photo Éric Mathon / Palais Princier)
The funds raised will go to Monaco Collectif Humanitaire, a solidarity chain whose mission is to offer a second life to children from developing countries, in cooperation with the Cardio Thoracic Centre of Monaco.
This project is consistent with the new Olympic motto: "faster, higher, stronger – together".
Stéphan Maggi,
Press Officer for the Monegasque Olympic Committee