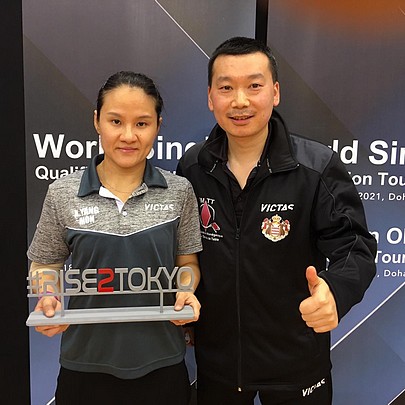 In Doha, Xiaoxin Yang (in grey) fought hard in a head-to-head with the Spaniard Maria Xiao. (DR)
She said she felt confident before the world qualifying tournament in Doha, but she had to turn her words into action. Exempt from the round of sixteen, the Monegasque entered the competition in the best way possible on Sunday evening, for the quarter finals, dominating the Belarussian Daria Trigolas (4-0). On Monday afternoon, in the semi-finals, Xiaoxin Yang crossed swords with the Indian player Manika Batra resulting in a 4-1 win.
"I gritted my teeth"
She had just one final step to take. Competing this evening against the Spaniard Maria Xiao, the Principality's representative put in a tenacious fight. After a challenging and victorious 1st set (14-12), the Iberian Xiao won the next two sets (11-8, 11-4). Xiaoxin Yang fought back in the 4th and 5th set (11-7, 11-3) but lost the 6th (9-11), after leading 8-6. We thought that it was over in the 7th set (3-7, 7-9) but Xiaoxin Yang found the mental and physical strength to pick up the score (10-10) and to inject the energy needed to secure the match (12-10), after 1hr8'. "I played badly in the 2nd and 3rd sets. The 4th set gave me back my confidence. In the 7th set, I didn't let go. I gritted my teeth. I had to be tough and very strong mentally because there was a lot of pressure. »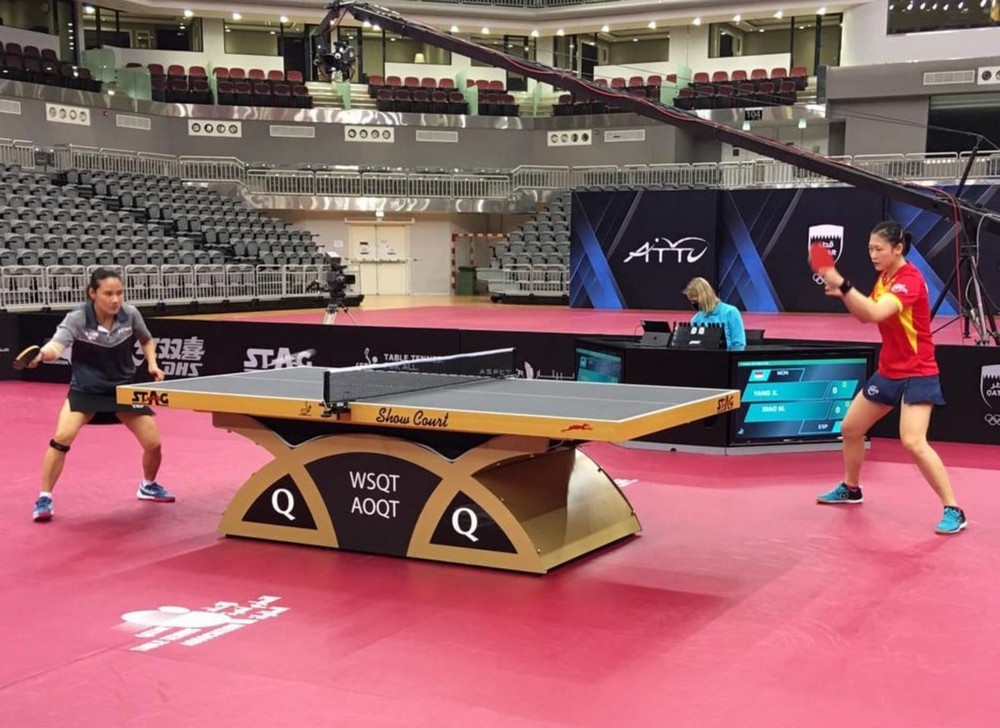 A smile for the Monegasque player (alongside Gang Xu, her coach): the dream of the Tokyo Olympics comes true. (DR)
In my father's name
Just after securing her ticket for Tokyo, emotions were running high. "I did it for my father". Xiaoxin Yang confided in the heat of the moment. A dad (Liang) who disappeared too soon and had always believed in his daughter from a very young age, encouraging her to excel, acting as a guide alongside her. "He wanted me to go to the Olympic Games. Today, this is the best present I could give him, as well as my mother Jinlan and my brother Xiaochao". Back from Qatar at the end of the week, Xiaoxin Yang will allow herself a few days of well-deserved rest. "I haven't seen my husband for three weeks." Before thinking about how to prepare herself as best as possible with her coach Gang Xu ("He has always been invaluable even during lock-down") with a view to the Games. "I might take part in the China Open." The opportunity to go and get her daughter Céline (three and a half) blocked in China because of the closure of the borders due to Covid-19, whom she hasn't seen now for close to one year and three months.
"Thanks to everyone who believed in me"
Xiaoxin Yang is keen to share this Olympic qualification "with all the people who have backed me for the last few years. I would like to thank Prince Albert II who gave me this chance. I don't really have words, I am extremely moved. Thanks to the Monegasque Federation, to the Monegasque Olympic Committee and to everyone who believed in me, even in difficult times and times of doubt. »
Stéphan Maggi,
Press Officer for the Monegasque Olympic Committee