Tokyo 2020
07/02/2022 : A solid performance and objective fulfilled for the Monegasque skier who was aiming for the top 30. Tomorrow, Tuesday, he'll follow on with the Super-G.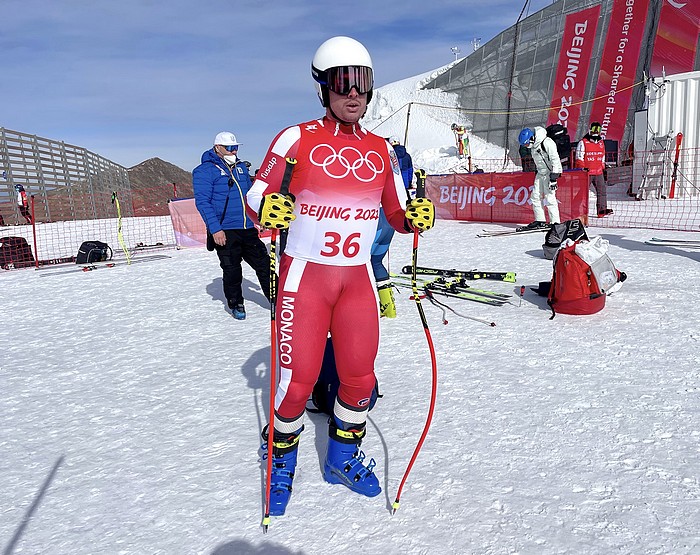 Arnaud Alessandria – full of concentration just a few minutes before the start. (Photo Jacques Pastor / COM)
Wearing bib number 36, Arnaud Alessandria, the first "red and white" athlete in competition at the Winter Games, finished today the downhill event in 29th position with a time of 1'46''25 (3''56 from the winner). In Yanqing, in the presence of H.S.H. Prince Albert II, the Principality's skier is to be commended for an admirable performance. He ranked among the top 30 – the goal he had set himself. Although the wind upset the event on Sunday, the conditions were better today. "It was slightly warmer, the snow wasn't exactly the same, the slope was a little more pronounced, with less ice." he said. "I made a mistake in the upper section when I lost a bit of time." The first section of the track proved lethal, especially for the Italian Cristof Innerhofer who came out (six withdrawals in all).
"Slightly frustrated but strong skiing"
"I am quite happy with my skiing, but at the same time a little disappointed. I thought I would be faster, especially on the lower section of the track where I had the impression I was skiing well. I need to look at the video again, sit back and analyse it calmly to understand what happened." he continues. "It is not a bad race." Comments relayed by Jacques Pastor, his trainer. "Compared to his last Olympic participation in Sochi (2014), Arnaud has halved the time separating him from first and more importantly has demonstrated far more solid skiing. He is feeling slightly frustrated because he had the ability to be within three seconds of the leader – that would have consolidated the reality of the skiing he is capable of doing." Whilst Nice-born Matthieu Bailet finished 27th (1'45''23), it was Swiss man Beat Feuz "a tremendous skier" who was crowned Olympic champion. "Norwegian Aleksander Aamodt Kilde (5th) was the clear favourite." says the Monegasque. "What is really excellent, is the silver medal won by the Frenchman Johan Clarey." He earned himself a much-deserved second place, becoming the oldest medallist in the history of the Games in Alpine skiing. "At 41, that's fantastic. I am delighted for him because he's a buddy I meet up with all the time." »
"No specific goal for the Super-G"
Arnaud Alessandria will be on the slopes again tomorrow, Tuesday, for the Super-G. "I don't really have a specific goal. We had two days of training before the downhill event, it went quite quickly. I'm going to try and duplicate this skiing." The event is slightly more technical with more bends and a little slower in regard to skiing speed. The equipment is also different with slightly shorter skis. "Physically, I'm ok. I am bearing up well for the moment. »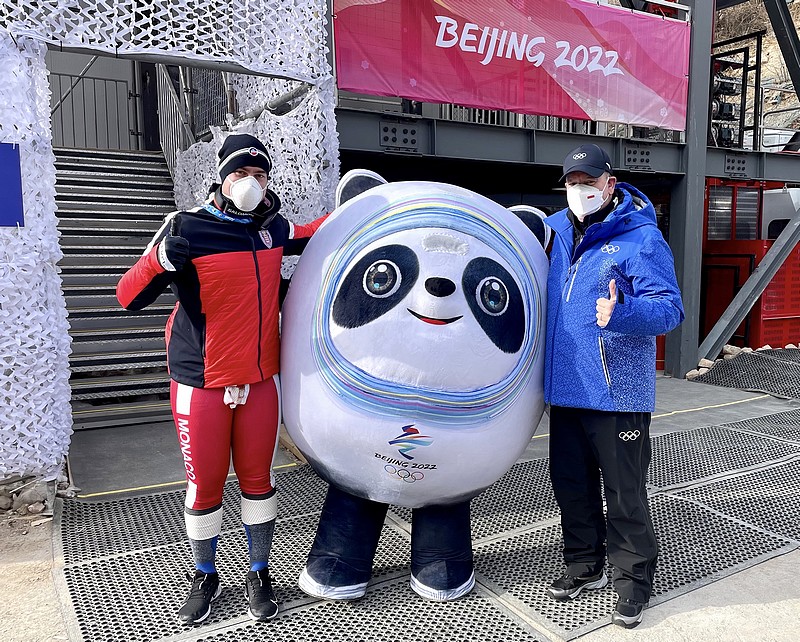 H.S.H. Prince Albert II, present in Yanqing, congratulates the Monegasque skier after he ranks 29th. (Photo Jacques Pastor / COM)
Stéphan Maggi,
Press Officer for the Monegasque Olympic Committee