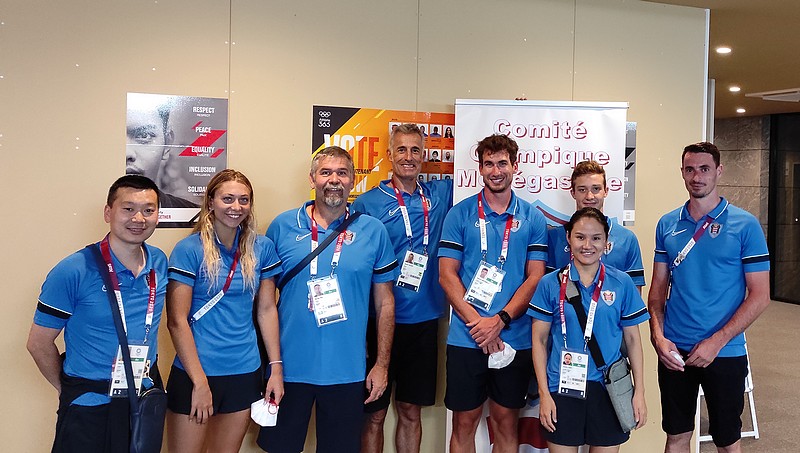 The Monegasque delegation finds its bearings within the Olympic Village (photo COM)
Quentin Antognelli (rowing) was the first Monegasque athlete to arrive in the Olympic Village. Checking in on Saturday, he was accompanied by Daniel Fauché (trainer) and Nicolas Pollano (osteopath).
Mathias Raymond (Chef de Mission) arrived ahead of them reaching Tokyo last Wednesday so that he could be as well prepared as possible for the arrival of the "red and white" delegation.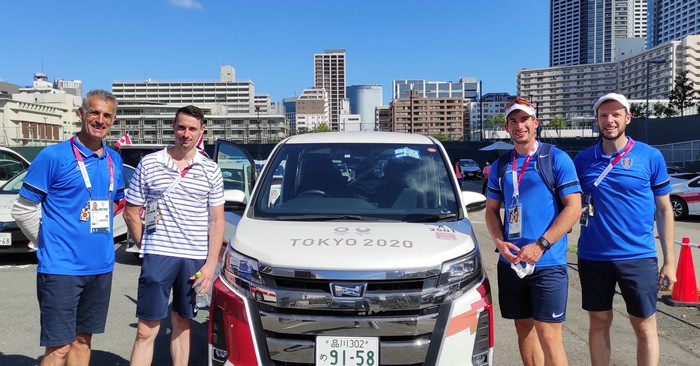 The Monegasques get ready for the Games in the Japanese capital. (photo COM)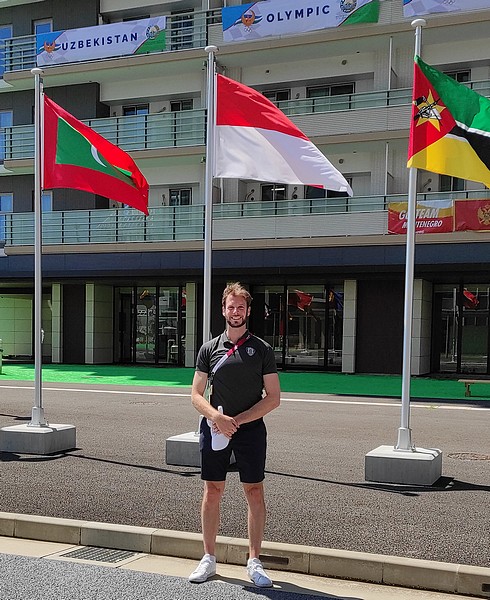 Mathias Raymond (Chef de Mission) was the first to check in to the Olympic Village (photo COM)
On Sunday, the swimmers Claudia Verdino and Théo Druenne and their trainer, Michel Pou, together with the table tennis player Xiaxoin Yang and his trainer, Gang Xu, in turn checked in to the Olympic Village. After quickly finding their way around, the Monegasque athletes have already started training on the various sites, so that they are well familiar with the venues and gain momentum just a few days before the Games kick off.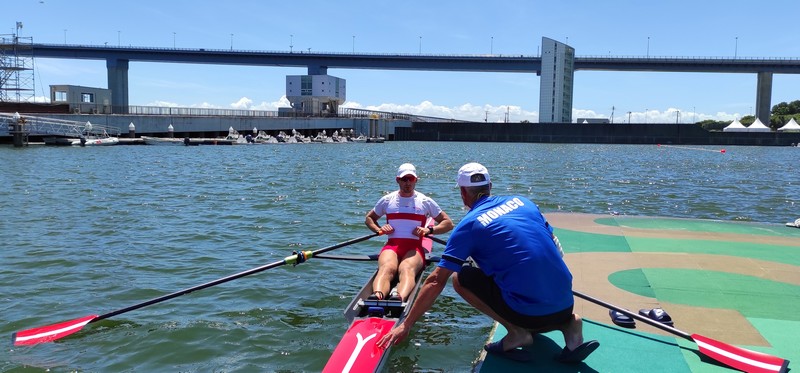 Like the rower Quentin Antognelli, the athletes from the Principality have started their training in Tokyo. (photo COM)
On Tuesday, the judoka Cédric and Marcel Pietri (trainer) are expected at the Olympic Village. That just leaves Charlotte Afriat (athletics) and Frédéric Choquard (trainer) who will be arriving in the Japanese capital only next Saturday due to the restrictions imposed by Covid-19 (the athletes must arrive in the Olympic Village five days prior to their competition).
Prince Albert II in Tokyo for the 138th session of the IOC
A member of the International Olympic Committee (IOC), H.S.H. Prince Albert II arrived in Tokyo on Monday. The Sovereign will take part in the 138th session of the IOC which is being held today and tomorrow. Just three days before the opening of the Games, the IOC will cast aside the ups and downs of this edition to prepare the future of Olympism, the 2026 Winter Olympics in Milan and the 2032 Summer Olympics set to take place in Brisbane. After two virtual general assemblies (July 2020 and March 2021), the reunion of the 102 members will be testimony to their optimism in the face of the health crisis. They will make two typical decisions of the Olympic movement: secure the Olympic host cities despite the candidate crisis and update the sports programme. President of the Monegasque Olympic Committee, H.S.H. Prince Albert II will continue to follow and encourage, as he always has done, the "red and white" athletes competing at these Games.
Stéphan Maggi,
Press Officer for the Monegasque Olympic Committee