From 15th to 19th September 1979, approximately 2 500 athletes took part in the 8th Mediterranean Games organised in Split, Yugoslavia, where the number of disciplines involved was 25
Official poster
A delegation from the Principality, composed of five athletes, took part in these Games :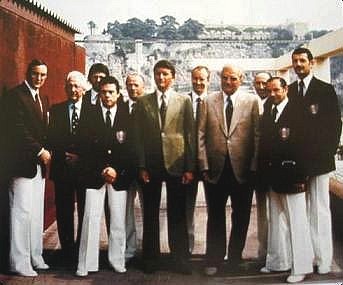 The monegasque delegation
Head of mission: Francis Boisson,
Judo: Eric Bessi,
Rifle shooting event: J. Barral and P. Boisson,
Pistol shooting event: J.Nigioni and J.P. Gasparotti.
.

From 23rd August to 6th September 1975, the 7th Mediterranean Games were held in Algiers. The Games brought together 2 444 athletes representing fifteen nations.
Official poster
The Principality of Monaco took part in the Games with a delegation of 4 athletes led by Michel Ravarino who represented the Monegasque Olympic Committee.
Two shooters: Pierre Boisson and Joë Barral who, despite the bad weather conditions, managed to work their way up to 4th place,
A swimmer: Patrick Novaretti,
A fencer: Jean-Charles Sénéca,
An escort: Edmond Durrieu.
.

The same team that took part in the Olympic Games in Rome returned to the bay of Naples to participate in the IV Mediterranean Games.
Official poster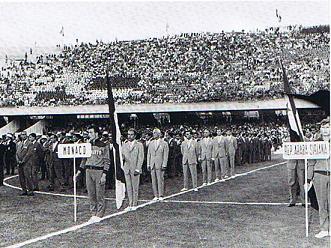 Gérard Battaglia and Jean-Pierre Crovetto for sailing, with the head of delegation, Jules Soccal,
fencers Henri Bini and Jean-Charles Sénéca,
shooters Paul Cerutti and Francis Bonafède (Ball-Trap, Olympic trench).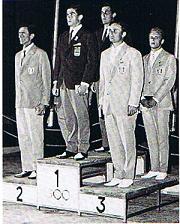 Gérard Battaglia and Jean-Pierre Crovetto (on the third step of the podium)
This time a bronze medal was won by the Monegasque sailing team. This was the first medal ever won by athletes from the Principality since the one awarded to Julien Médecin in the art competition.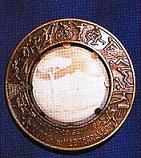 .

The new Olympic anthem was played at the opening of the II Mediterranean Games in Barcelona, in which a delegation from the Principality consisting of fourteen members took part.
Official poster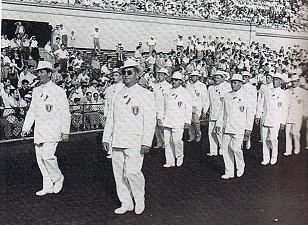 The Monegasque delegation at the Mediterranean Games of Barcelona
Head of delegation : Dr Louis Orecchia,

Fencing :Henri Bini, Gilbert Orengo, Raymond Battaglia and Marcel Kroenlein,

Shooting : Michel Ravarino, Herman Schultz, Pierre Marsan, Marcel Rué and Robert Robini,

Sailing : Gérard Battaglia, Jules Soccal and Thibaud,
.