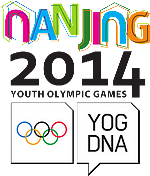 The 2nd Summer Youth Olympic Games will be held in Nanjing, China from 16 to 28 August 2014. The Lighting Ceremony will be held on 30 April in Athens, Greece.
Press releases
Stéphane Maggi, Attaché de presse du Comité Olympique
Communiqué n° 1 (13/08/2014) : Nicolas Grinda en lice à Nanjing

---
.
Lundi 9 janvier 2012, le Prince Souverain, Président du Comité Olympique monégasque, a présenté, en présence des membres du Comité, la délégation monégasque qui se rendra aux 1er Jeux Olympiques d'Hiver de la Jeunesse à Innsbruck, du 13 au 22 janvier. Trois jeunes athlètes représenteront la Principauté de Monaco :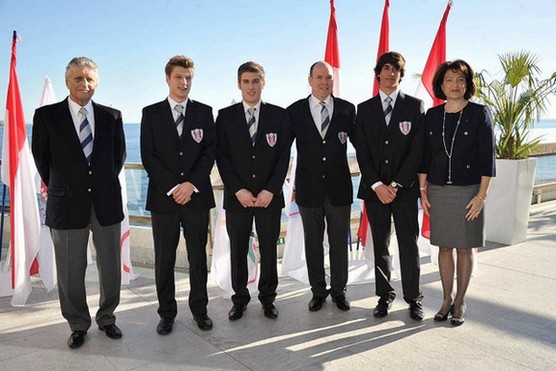 Me Henry Rey, Jeremy Torre, Rudy Rinaldi, S.A.S. le Prince Albert, Bryan Pelassy, Mme Lambin-Berti
Bryan Pelassy en ski alpin,
Jérémy Torre (pousseur-freineur)
et Rudy Rinaldi (pilote) en bobsleigh à deux, ce dernier sera également porte drapeau de la délégation.
Plus de 1000 athlètes (entre 14 et 19 ans), issus d'une soixantaine de pays, resteront dans la ville hôte durant les Jeux pour une rencontre internationale de haut niveau. Parallèlement, ils participeront à un programme intégré de sport, de culture et d'éducation. Les JOJ sont avant tout une compétition mais visent aussi à célébrer les valeurs olympiques et à partager différentes cultures dans une ambiance festive.
Plaquette de présentation :  
Résultats de l'équipe de bobeurs :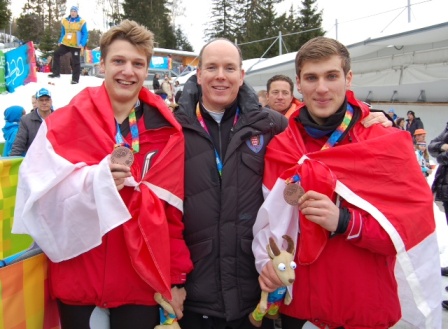 Jeremy Torre, Rudy Rinaldi entourant S.A.S. le Prince Albert
Retrouvez la vidéo (ci-dessous)
---
(09/01) Présentation - Clip de présentation des 3 athlètes monégasques
qui défendront les couleurs de la Principauté à Innsbruck
vidéo et montage : Stéphan Maggi -

©

COM
.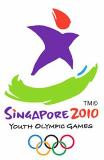 - From 14th to 26th August, the 1st Youth Olympic Games took place in Singapore. The event, created on the initiative of Count Jacques Rogge (President of the International Olympic Committee), groups together young athletes aged between 14 and 18 from 205 National Olympic Committees.
3,500 athletes competed in the sports events and also took part in the cultural and educational programme.
This was Mr Sébastien Gattuso's first experience as Chief of Mission. He discovered the administrative side of managing a delegation (logistics, transportation...).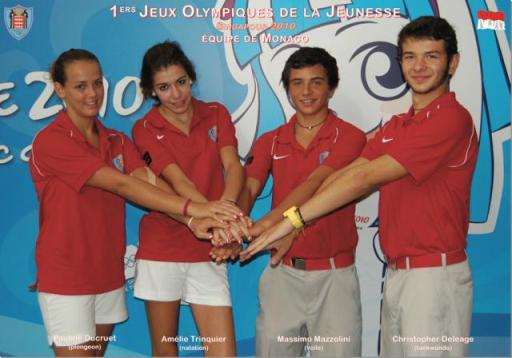 The results obtained by the Monegasque athletes :
Pauline Ducruet (diving – 3m) ranked 12th position
Amélie Trinquier (swimming – 100m freestyle) – 45th /54 with a time of 1.05.04
Christopher Deleage (taekwondo under 73 kg) was eliminated during the first round against Gulec (GER)
Massimo Mazzolini (sailing – Byte 2) finished 25th / 29
.